Cactus Records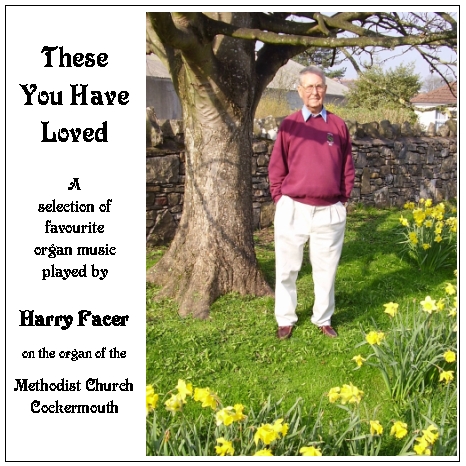 Track List
March From The Occasional Overture (Handel)
Agnus Dei (Mozart)
Berceuse (Ilinsky)
Glory Be To God On High (Facer-Jeffries)
Angels Ever Bright And Fair (Handel)
Chorale Prelude (Parry)
Prelude in E minor (Bach)
Prelude (Pachulski)
Romance (E MacDowell)
Scherzino (A G Colburn)
Ave Verum (Mozart)
Praise My Soul
Blaenwern
Jerusalem
Melody For The Organ (A M Fox)
Solemn Melody (Walford Davies)
Trumpet Voluntary (Henry Purcell)
Pie Jesu (Lloyd-Weber)
Easter Hymn from Cavalleria Rusticana (Mascagni)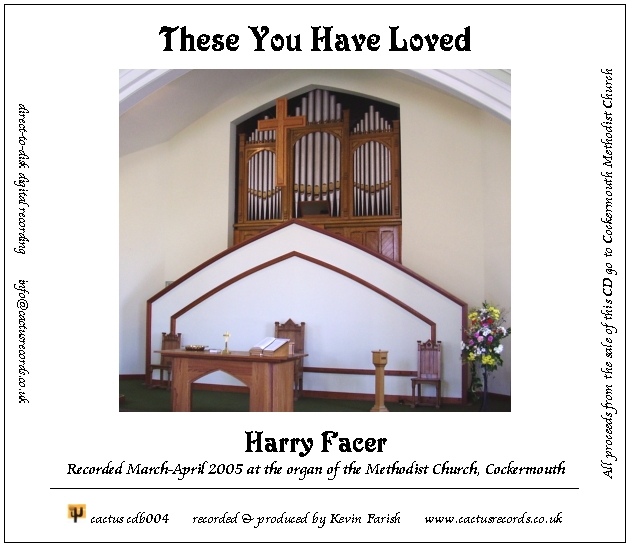 All proceeds from this CD go to Cockermouth Methodist Church.
The recordings were made on the 12th March 2005 and 2nd April 2005 in the Methodist Church, Cockermouth. The distinctive sound of the church organ was captured by a pair of Sennheiser microphones through a Behringer mixer. The stereo output from the mixer being recorded directly on to a computer hard disk using GoldWave software.
CD recorded and produced by Kevin Farish.
Listen to "These You Have Loved"
| | |
| --- | --- |
| 01 March From The Occasional Overture | |
| 02 Agnus Dei | |
| 03 Berceuse | |
| 04 Glory Be To God On High | |
| 05 Angels Ever Bright And Fair | |
| 06 Chorale Prelude | |
| 07 Prelude in E Minor | |
| 08 Prelude | |
| 09 Romance | |
| 10 Scherzino | |
| 11 Ave Verum | |
| 12 Praise My Soul | |
| 13 Blaenwern | |
| 14 Jerusalem | |
| 15 Melody For The Organ | |
| 16 Solemn Melody | |
| 17 Trumpet Voluntary | |
| 18 Pie Jesu | |
| 19 Easter Hymn from Cavalleria Rusticana | |
---
Some details about the organ. This is the manufacturer's plate: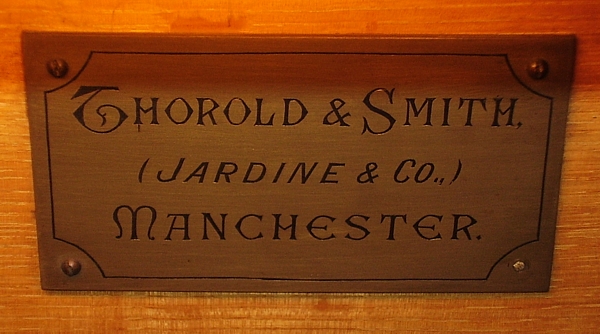 The organ was originally installed in the Wesleyan Methodist Church in Market Street: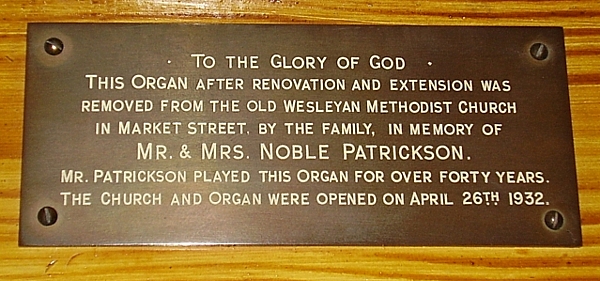 ---

©2021 Cactus Records
Page updated 22/12/21